Nissan Altima 2007-2012 Service Manual: Filament
Inspection and Repair
INSPECTION
1. When measuring voltage, wrap tin foil around the top of the negative probe. Then press the foil against the wire with your finger.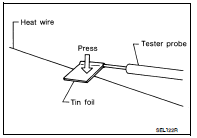 2. Attach probe circuit tester (in Volt range) to middle portion of each filament.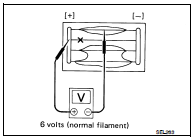 3. If a filament is burned out, circuit tester registers 0 or battery voltage.
4. To locate burned out point, move probe to left and right along filament.
Test needle will swing abruptly when probe passes the point.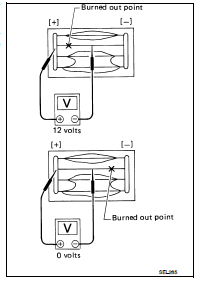 REPAIR
REPAIR EQUIPMENT