Nissan Altima 2007-2012 Service Manual: Headlamp (xenon type)
System Diagram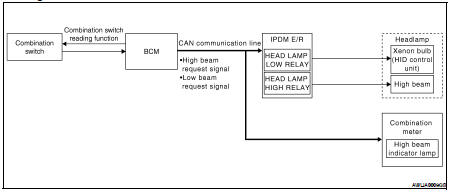 System Description
Control of the headlamp system is dependent upon the position of the lighting switch (combination switch).
When the lighting switch is placed in the 2nd position, the BCM (body control module) receives input requesting the headlamps and park lamps to illuminate. This input is communicated to the IPDM E/R (intelligent power distribution module engine room) across the CAN communication lines. The CPU (central processing unit) of the IPDM E/R controls the headlamp high and headlamp low relay coils. When energized, these relays direct power to the respective headlamps, which then illuminate.
Component Parts Location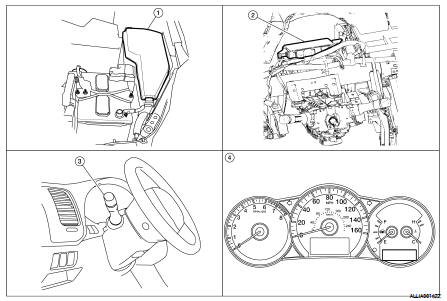 1. IPDM E/R E17, E18, E200
2. BCM M16, M17, M18, M19 (view with instrument panel removed)
3. Combination Switch M28
4. Combination Meter M24
Component Description
XENON HEADLAMP
A Xenon type headlamp is adapted to the low beam headlamps. Xenon bulbs do not use a filament. Instead, they produce light when a high voltage current is passed between two tungsten electrodes through a mixture of xenon (an inert gas) and certain other metal halides. In addition to added lighting power, electronic control of the power supply gives the headlamps stable quality and tone color.
Following are some of the many advantages of the xenon type headlamp.