Nissan Altima 2007-2012 Service Manual: S Terminal circuit
Description
The output voltage of the generator is controlled by the IC regulator at terminal "3" (S) detecting the input voltage.
Terminal "3" circuit detects the battery voltage to adjust the generator output voltage with the IC regulator.
Diagnosis Procedure
1.CHECK VOLTAGE REGULATOR CIRCUIT CONNECTION
Check to see if connector F7 terminal 3 is clean and tight.
Is the inspection result normal? YES >> GO TO 2
NO >> Repair terminal connection. Confirm repair by performing complete Starting/Charging system test.
Refer to Technical Service Bulletin.
2.CHECK VOLTAGE REGULATOR CIRCUIT
Check voltage between generator harness connector F7 terminal 3 and ground.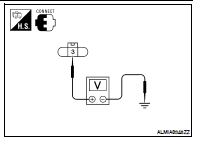 Does battery voltage exist? YES >> Refer to CHG-2, "Work Flow".
NO >> Check harness for open between generator and fuse.