Nissan Altima 2007-2012 Service Manual: U1244 GPS antenna
Description
Refer to AV-240, "System Description".
DTC Logic
DTC DETECTION LOGIC

Diagnosis Procedure
1.GPS ANTENNA CHECK
Inspect GPS antenna and antenna feeder for damage or poor connection.
Is the GPS antenna and feeder clean and undamaged? YES >> GO TO 2
NO >> Repair or replace malfunctioning parts.
2.CHECK AV CONTROL UNIT VOLTAGE
1. Turn ignition switch ON.
2. Check voltage between AV control unit connector M90 terminal 73 and ground.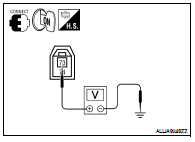 Is the voltage reading as specified? YES >> Replace GPS antenna. Refer to AV-447, "Removal and Installation".
NO >> Replace AV control unit. Refer to AV-437, "Removal and Installation".