Nissan Altima 2007-2012 Service Manual: Audio unit
Diagnosis Procedure
1.CHECK FUSES
Check that the following fuses are not blown.

Are the fuses OK? YES >> GO TO 2
NO >> If fuse is blown, be sure to eliminate cause of malfunction before installing new fuse.
2.POWER SUPPLY CIRCUIT CHECK
1. Disconnect audio unit connector M43.
2. Check voltage between the audio unit connector M43 and ground.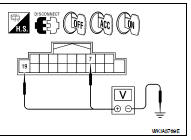 Are the voltage results as specified? YES >> GO TO 3
NO >> • Check connector housings for disconnected or loose terminals.
• Repair harness or connector.
3.GROUND CIRCUIT CHECK
Inspect audio unit case ground.
Does case ground pass inspection? YES >> Inspection End.
NO >> Repair audio unit case ground.