Nissan Altima 2007-2012 Service Manual: Control system
System Diagram
System Description
The CVT senses vehicle operating conditions through various sensors. It always controls the optimum shift position and reduces shifting and lock-up shocks.
TCM FUNCTION
The function of the TCM is to: • Receive input signals sent from various switches and sensors.
• Determine required line pressure, shifting point, and lock-up operation.
• Send required output signals to the step motor and the respective solenoids.

*: Without manual mode.
INPUT/OUTPUT SIGNAL OF TCM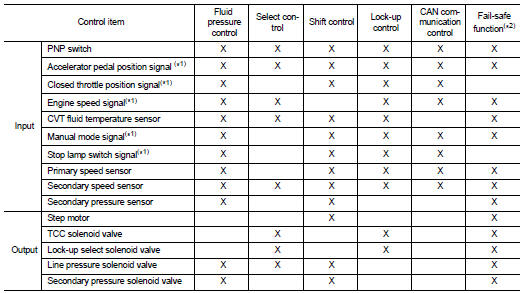 *1: Input by CAN communications.
*2: If these input and output signals are different, the TCM triggers the fail-safe function.
Component Parts Location - Coupe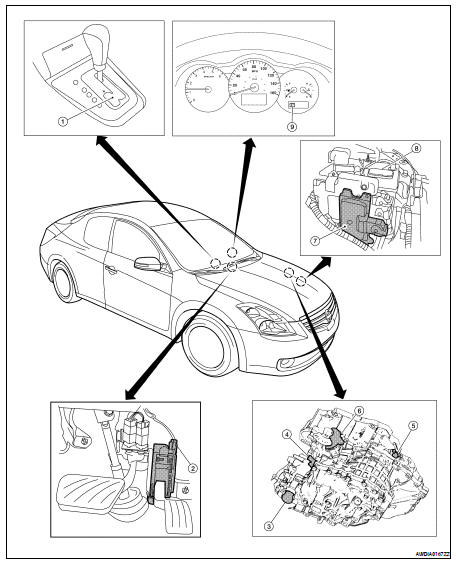 1. Control device assembly
2. Accelerator pedal position sensor
3. CVT unit harness connector
4. Primary speed sensor
5. Secondary speed sensor
6. PNP switch
7. TCM
8. Battery
9. Shift position indicator Manual mode indicator
Component Parts Location - Sedan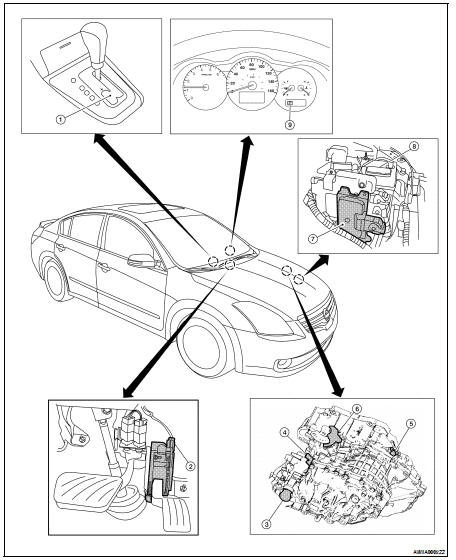 1. Control device assembly
2. Accelerator pedal position sensor
3. CVT unit harness connector
4. Primary speed sensor
5. Secondary speed sensor
6. PNP switch
7. TCM
8. Battery
9. Shift position indicator Manual mode indicator
Component Description
TRANSAXLE ASSEMBLY

EXCEPT TRANSAXLE ASSEMBLY