Nissan Altima 2007-2012 Service Manual: CSC (Concentric slave cylinder)
Exploded View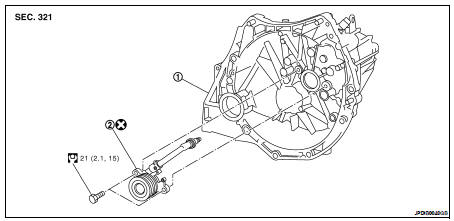 1. Transaxle assembly
2. CSC (Concentric Slave Cylinder)
Removal and Installation
CAUTION: • If transaxle assembly is removed from the vehicle, always replace CSC. Return CSC insert to original position to remove transaxle assembly. Dust on clutch disc sliding parts may damage CSC seal and may cause clutch fluid leakage.
• Do not spill clutch fluid onto painted surfaces. If it spills, wipe up immediately and wash the affected area with water.
REMOVAL
1. Remove the transaxle assembly. Refer to TM-26, "Removal and Installation".
2. Remove CSC bolts and CSC from clutch housing.
INSTALLATION
Installation is in the reverse order of removal.
CAUTION: • Do not reuse CSC.
• Do not insert and operate CSC because piston and stopper of CSC components may fall off. After installation, bleed clutch hydraulic system. Refer to CL-7, "Air Bleeding Procedure".