Nissan Altima 2007-2012 Service Manual: Drive belts
Checking Drive Belts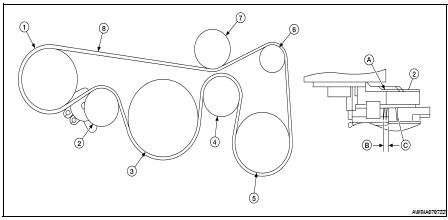 1. Power steering pump
2. Drive belt auto-tensioner
3. Crankshaft
4. Idler pulley
5. A/C compressor pulley
6. Generator pulley
7. Idler pulley
8. Drive belt
A. Indicator
B. Possible use range (for new belt)
C. Belt replacement
WARNING: Inspect and check the drive belts with the engine off.
1. Inspect belt for cracks, fraying, wear or oil adhesion. If necessary, replace with a new one.
2. Rotate the crankshaft pulley two times then check the belt tension.
NOTE: • Inspect drive belt tension when engine is cold.
Tension Adjustment
• Belt tension is not manually adjustable, it is automatically adjusted by the drive belt auto-tensioner.