Nissan Altima 2007-2012 Service Manual: Front washer nozzle
Removal and Installation
REMOVAL
1. Remove the cowl top cover For Sedan Refer to EXT-39, "Removal and Installation". For Coupe Refer to EXT-18, "Removal and Installation" 2. Push washer nozzle tab (A), to release the washer nozzle (1) from the cowl top cover, then disconnect the washer nozzle hose (2).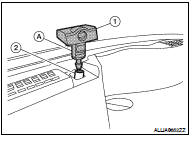 INSTALLATION
1. Installation is in the reverse order of removal.
2. Adjust nozzle spray location. Refer to WW-119, "FRONT WASHER NOZZLE : Adjustment".
Adjustment
Adjust spray positions to match the positions as shown.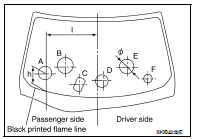 *1: Spray positions are aiming targets, heights are allowable spray patterns above the target points.
Insert a suitable tool (A) into the nozzle hole (B) and move up/down and left/right to adjust the spray position of the nozzle (1).