Nissan Altima Owners Manual: Connecting Procedure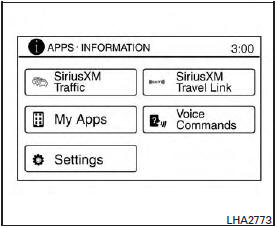 NOTE:
The connecting procedure must be performed when the vehicle is stationary. If the vehicle starts moving during the procedure, the procedure will be cancelled.
1. Press the [

] button on the
control panel.
2. Select the "Settings" key.
3. Select the "Phone & Bluetooth" key.
4. Select the "Connect New Device" key.
5. Initiate the connecting process from the handset. The system will display the message: "Is PIN XXXXXX displayed on your Bluetooth device?". If the PIN is displayed on your Bluetooth® device, select "Yes" to complete the pairing process.
For more information, see the Bluetooth® device's Owner's Manual.