Nissan Altima 2007-2012 Service Manual: Evaporator
Removal and Installation
COMPONENTS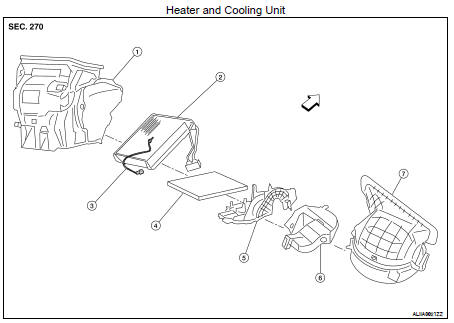 1. Heater and cooling unit case
2. Evaporator
3. Intake sensor
4. In-cabin microfilter
5. Evaporator cover
6. Heater and cooling unit foot duct RH
7. Blower unit

REMOVAL
1. Remove the heater and cooling unit assembly. Refer to HA-32, "HFC-134a (R-134a) Service Procedure".
2. Remove the expansion valve.
CAUTION: Cap or wrap the joint of the pipe with suitable material such as vinyl tape to avoid the entry of air. 3. Remove the blower unit. Refer to VTL-14, "Removal and Installation".
4. Remove the heater and cooling unit foot duct RH.
5. Remove the air mix door motor RH.
6. Remove the evaporator cover.
7. Remove the evaporator.
• Remove the intake sensor.
CAUTION: Mark the mounting position of the intake sensor.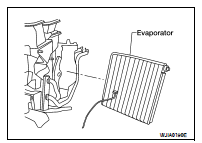 INSTALLATION
Installation is in the reverse order of removal.
Expansion valve mounting bolts : 2.9 - 5.0 N·m (0.29 - 0.51 kg-m, 26 - 44 in-lb)
CAUTION: • Replace the O-rings with new ones, then apply compressor oil to them when installing them.