Nissan Altima Owners Manual: Headlight control switch
Lighting
1 When turning the switch to the


position, the front parking, tail, license plate and instrument panel lights come on.
2 When turning the switch to the


position, the headlights come on and all the other lights remain on.
CAUTION
Use the headlights with the engine running to avoid discharging the vehicle battery.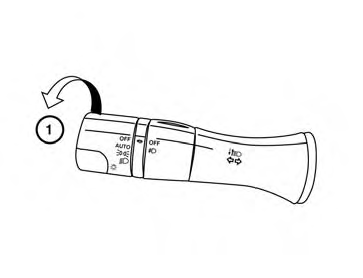 Autolight system (if so equipped)
The autolight system allows the headlights to turn on and off automatically. The autolight system can:
● Turn on the headlights, front parking, tail, license plate and instrument panel lights automatically when it is dark.
● Turn off all the lights when it is light.
● Keep all the lights on for a period of time after you place the ignition switch in the OFF position and all doors are closed.
NOTE:
Autolight activation sensitivity and the time delay for autolight shutoff can be adjusted.
See "Vehicle information display" in this section.
To turn on the autolight system: 1. Turn the headlight switch to the AUTO position 1 .
2. Turn the ignition switch to ON.
3. The autolight system automatically turns the headlights on and off.
Initially, if the ignition switch is turned OFF and a door is opened and left open, the headlights remain ON for a period of time. If another door is opened while the headlights are on, then the timer is reset.
To turn the autolight system off, turn the switch to the OFF,

,


or position.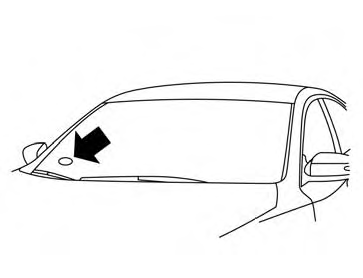 Be sure you do not put anything on top of the autolight sensor located in the top side of the instrument panel. The autolight sensor controls the autolight; if it is covered, the autolight sensor reacts as if it is dark out and the headlights will illuminate. If this occurs while parked with the engine off and the ignition switch placed in the ON position, your vehicle's battery could become discharged.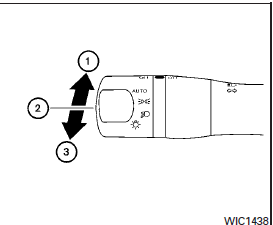 Headlight beam select
1 To select the high beam function, push the lever forward. The high beam lights come on and the

light illuminates.

2 Pull the lever back to select the low beam.
3 Pulling and releasing the lever flashes the headlight high beams on and off.
Battery saver system
The battery saver automatically turns off the ignition after a period of time when the ignition switch is left in the ACC or ON position.