Nissan Altima 2007-2012 Service Manual: Steering wheel
Removal and Installation
REMOVAL
NOTE: When reconnecting spiral cable, fix cable with a tape so that fixing case and rotating part keep aligned. This will omit neutral position alignment procedure during spiral cable installation.
1. Set vehicle to the straight-ahead position.
2. Remove driver air bag module. Refer to SR-5, "Removal and Installation".
3. Remove steering wheel lock nut after steering is locked.
4. Remove steering wheel using Tool (A).
Tool number A: ST27180001 (J-25726-A)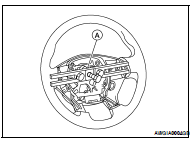 INSTALLATION
Installation is in the reverse order of removal.
NOTE: Align the spiral cable. Refer to SR-8, "Removal and Installation".