Nissan Altima 2007-2012 Service Manual: On-vehicle maintenance
WHEEL HUB
On-vehicle Service
Check axle and suspension parts for excessive play, wear or damage.
• Shake each rear wheel to check for excessive play.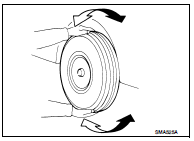 Rear Wheel Bearing
• Check axial end play.
Axial end play : 0.1 mm (0.004 in) or less
• Check that wheel hub bearings operate smoothly.
• Replace wheel bearing assembly if there is axial end play or wheel bearing does not turn smoothly. Refer to FAX-8, "Removal and Installation".