Nissan Altima 2007-2012 Service Manual: Rear spoiler
Removal and Installation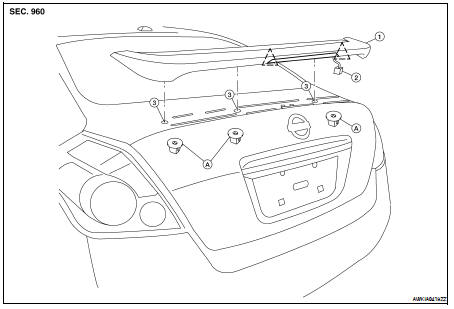 1. Rear spoiler assembly
2. High mounted stop lamp harness
3. Gasket
A. Nuts

Removal
1. Remove trunk lid finisher (if equipped). Refer to INT-23, "Removal and Installation".
2. Disconnect high mounted stop lamp connector.
3. Using a trim stick, carefully release the clips and pry foam tape free from trunk lid surface.
CAUTION: Use care not to damage painted surfaces during removal of, or releasing adhesive backed foam tapes.
4. Release the high mounted stop lamp harness grommet from trunk lid, then remove rear spoiler.
Installation
Installation is in the reverse order of removal.
NOTE: • Before installing rear spoiler, clean the surface where it will be mounted with isopropyl alcohol or equivalent to degrease the surface.
• Before installing, be sure there are no gaps or waves in the foam tape where the surfaces meet.
• During installation, be sure grommet of high mounted stop lamp harness is fully seated into trunk lid opening prior to final rear air spoiler placement.