Nissan Altima 2007-2012 Service Manual: Spark plug
Removal and Installation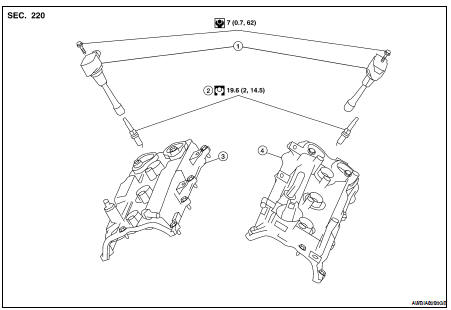 1. Ignition coil
2. Spark plug
3. Rocker cover RH
4. Rocker cover LH
REMOVAL
1. Remove the ignition coil. Refer to EM-145, "Removal and Installation LH" and EM-145, "Removal and Installation RH".
2. Remove the spark plug with a suitable spark plug wrench.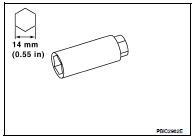 INSPECTION AFTER REMOVAL
• Do not use a wire brush for cleaning the spark plugs. Replace as necessary.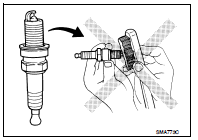 • If plug is covered with carbon, a spark plug cleaner may be used.
Cleaner air pressure : less than 588 kPa (6 kg/cm2, 85 psi)
Cleaning time : less than 20 seconds
• Checking and adjusting plug gap is not required between change intervals. If the gap is out of specification, replace the spark plug.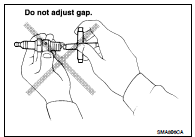 INSTALLATION
Installation is in the reverse order of removal.