Nissan Altima 2007-2012 Service Manual: Parking brake shoe
Inspection
LINING THICKNESS INSPECTION
• Check thickness of lining.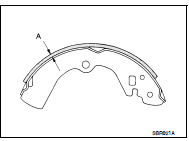 DRUM INNER DIAMETER INSPECTION
• Check inner diameter of drum in rear disc rotor.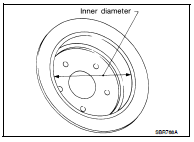 OTHER INSPECTIONS
• Check the following: - Lining for excessive wear, damage, and peeling.
- Shoe sliding surface for excessive wear and damage.
- Anti-rattle pin for excessive wear and corrosion.
- Return spring for sagging.
• Make sure that adjuster moves smoothly.
• Visually check the inside of drum for excessive wear, cracks, and damage. Check the inside of drum using a pair of vernier calipers.
• Replace with new parts as necessary.