Nissan Altima 2007-2012 Service Manual: Side guard molding
Removal and Installation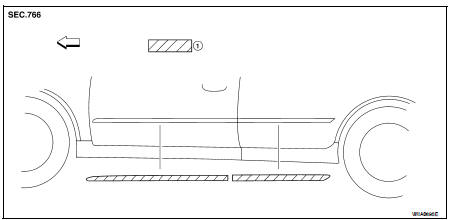 1. Double-faced adhesive tape
Removal
CAUTION: Never apply tack-paper adhesive remover to body panel surface finished with lacquer-based paints.
• Original side guard molding is affixed to body panel with double-faced adhesive tape.
1. Heat molding to between 30° and 40°C (86° to 104°F) with a heat gun.
2. Using a trim stick, gently lift an end of the molding and cut away tape to remove molding.
3. Remove all remaining traces of tape and adhesive.
Installation
• On vehicles coated with Hard Clear Coat, use double-faced 3M® adhesive tape Product No. 4210 or equivalent, after priming with 3M primer Product No. N200 or C-100 or equivalent.
• The repair parts are also attached with double-faced adhesive tape.
• To re-use existing molding, clean all traces of double sided tape from the molding and apply new doublefaced tape to the molding.
1. Clean the panel surface with isopropyl alcohol or equivalent to degrease the surface.
2. Using a heat gun, heat the panel and molding tape surface to 30° to 40°C (86° to 104°F).
3. Remove the backing sheet from the tape surface.
4. Press ends by hand and use a roller to apply 5 kg-f (11 lb-f) to press molding to door surface.
NOTE: For maximum adhesion, allow vehicle to set without washing for 24 hours after installation.