Nissan Altima 2007-2012 Service Manual: Basic inspection
DIAGNOSIS AND REPAIR WORKFLOW
Work Flow
OVERALL SEQUENCE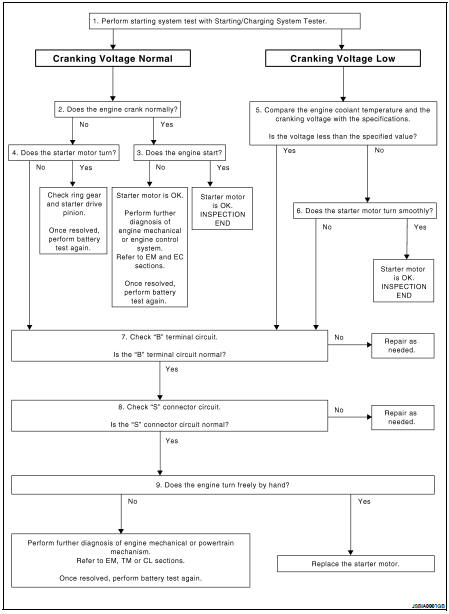 DETAILED FLOW
NOTE: To ensure a complete and thorough diagnosis, the battery, starter motor and alternator test segments must be done as a set from start to finish.
1.DIAGNOSIS WITH STARTING/CHARGING SYSTEM TESTER
Perform the starting system test with Starting/Charging System Tester (J-44373). For details and operating instructions, refer to Technical Service Bulletin.
Test result CRANKING VOLTAGE NORMAL>>GO TO 2
CRANKING VOLTAGE LOW>>GO TO 5
CHARGE BATTERY>>Perform the slow battery charging procedure. (Initial rate of charge is 10A for 12 hours.) Perform battery test again. Refer to Technical Service Bulletin.
REPLACE BATTERY>>Before replacing battery, clean the battery cable clamps and battery posts. Perform battery test again. Refer to Technical Service Bulletin. If second test result is