Nissan Altima 2007-2012 Service Manual: CD changer
Diagnosis Procedure
1.CHECK FUSE
Check that the following fuses of the CD changer are not blown.

Are the fuses OK? YES >> GO TO 2
NO >> Be sure to eliminate cause of malfunction before installing new fuse.
2.CHECK POWER SUPPLY CIRCUIT
Check voltage between CD changer harness connector and ground.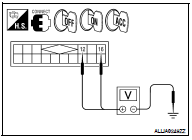 Are the voltage readings as specified? YES >> Inspection End.
NO >> Check harness between CD changer and fuse.