Nissan Altima 2007-2012 Service Manual: Cylinder block
Disassembly and Assembly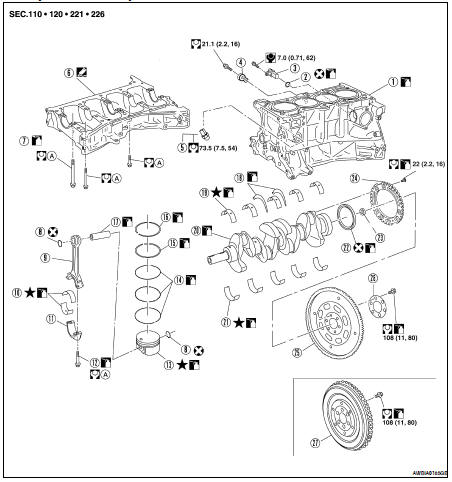 1. Cylinder block
2. O-ring
3. Crankshaft position sensor (POS)
4. Knock sensor
5. Cylinder block heater (if equipped)
6. Lower cylinder block
7. Lower cylinder block bolt
8. Snap ring
9. Connecting rod
10. Connecting rod bearing
11. Connecting rod bearing cap
12. Connecting rod bearing cap bolt
13. Piston
14. Oil ring
15. Second ring
16. Top ring
17. Piston pin
18. Main thrust bearing
19. Main bearing upper
20. Crankshaft
21. Main bearing lower
22. Crankshaft rear oil seal
23. Pilot converter (CVT)
24. Crankshaft signal plate
25. Drive plate (CVT)
26. Reinforcement plate (CVT)
27. Flywheel (M/T)
A. Follow assembly procedure
CAUTION: Apply new engine oil to parts marked in illustration before installation.
DISASSEMBLY
1. Remove the engine and transaxle as an assembly from the vehicle, and separate the transaxle from the engine. Refer to EM-72, "Removal and Installation".
2. Mount the engine on a suitable engine stand.
3. Drain any remaining engine oil and coolant from the engine.
4. Remove the following components and associated parts.