Nissan Altima 2007-2012 Service Manual: Thermostat and thermostat housing
Removal and Installation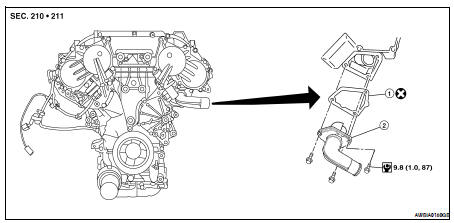 1. Gasket
2. Thermostat assembly
WARNING: Never remove the radiator cap when the engine is hot. Serious burns could occur from high pressure coolant escaping from the radiator.
REMOVAL
CAUTION: Perform when engine is cool.
1. Drain engine coolant from the radiator. Refer to CO-35, "Changing Engine Coolant".
2. Remove drive belts. Refer to EM-121, "Removal and Installation".
3. Remove water drain plug on water pump side of the engine. Refer to EM-206, "Disassembly and Assembly".
4. Disconnect lower radiator hose.
5. Remove engine coolant inlet and thermostat assembly.