Nissan Altima 2007-2012 Service Manual: Automatic speed control device (ASCD)
System Diagram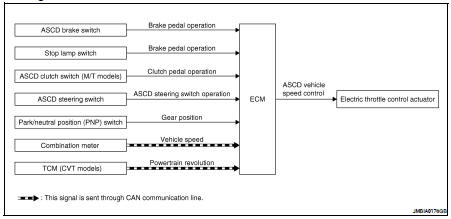 System Description
INPUT/OUTPUT SIGNAL CHART

*: This signal is sent to the ECM through CAN communication line
BASIC ASCD SYSTEM
Refer to Owner's Manual for ASCD operating instructions.
Automatic Speed Control Device (ASCD) allows a driver to keep vehicle at predetermined constant speed without depressing accelerator pedal. Driver can set vehicle speed in advance between approximately 40 km/ h (25 MPH) and 144 km/h (89 MPH).
ECM controls throttle angle of electric throttle control actuator to regulate engine speed.
The ASCD operation status is indicated by two indicators (CRUISE and SET on the information display) on the combination meter. If any malfunction occurs in ASCD system, SET indicator blinks and ASCD control is deactivated.
NOTE: Always drive vehicle in safe manner according to traffic conditions and obey all traffic laws.
SET OPERATION
Press MAIN switch. (CRUISE is indicated on the information display.) When vehicle speed reaches a desired speed between approximately 40 km/h (25 MPH) and 144 km/h (89 MPH), press SET/COAST switch. (Then SET is indicated on the information display.)
ACCELERATE OPERATION
If the RESUME/ACCELERATE switch is pressed during cruise control driving, increase the vehicle speed until the switch is released or vehicle speed reaches maximum speed controlled by the system.
And then ASCD will keep the new set speed.
CANCEL OPERATION
When any of following conditions exist, cruise operation will be canceled.