Nissan Altima 2007-2012 Service Manual: Cooling fan
Description
The ECM controls the cooling fan corresponding to the vehicle speed, engine colant temperature, refrigerant pressure, and air conditioner ON signal. The control system has 4-step control [HIGH/MIDDLE/LOW/OFF].
COOLING FAN MOTOR
The cooling fan operates at each speed when the current flows in the cooling fan motor as follows.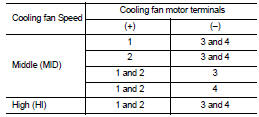 The cooling fan operates at low (LOW) speed when cooling fan motors-1 and -2 are circuited in series and middle speed condition.
Refer to EC-77, "System Diagram".
Component Function Check
1.CHECK COOLING FAN FUNCTION

1. Turn ignition switch ON.
2. Perform