Nissan Altima 2007-2012 Service Manual: Front stabilizer
Removal and Installation
REMOVAL
1. Remove steering gear. Refer to ST-17, "Removal and Installation".
2. Remove mounting nuts on upper portion of stabilizer connecting rod.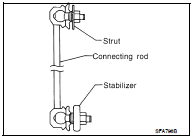 3. Remove stabilizer clamp bolts.
4. Remove stabilizer from the vehicle.
INSPECTION AFTER REMOVAL
Check stabilizer, connecting rod, bushing and clamp for deformation, cracks and damage, and replace if necessary.
INSTALLATION
Installation is in the reverse order of removal.