Nissan Altima 2007-2012 Service Manual: Intake manifold
Removal and Installation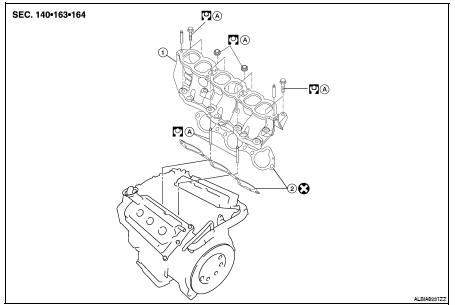 1. Intake manifold
2. Gasket
A. Follow installation procedure
REMOVAL
WARNING: To avoid the danger of being scalded, never drain the coolant when the engine is hot.
1. Remove the engine cover with power tool.
2. Release the fuel pressure. Refer to EC-1579, "Inspection".
3. Remove intake manifold collector. Refer to EM-130, "Removal and Installation".
4. Disconnect fuel tube quick connector at vehicle piping side.
5. To remove the quick connector cap, hold the sides of the connector, push in the tabs and pull out the tube.
CAUTION: