Nissan Altima 2007-2012 Service Manual: Oil pump
Removal and Installation
REMOVAL
1. Remove the timing chain. Refer to EM-163, "Removal".
2. Remove oil pump assembly.
INSTALLATION
Installation is in the reverse order of removal.
Disassembly and Assembly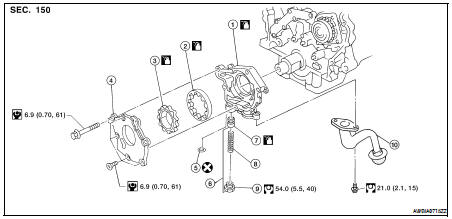 1. Oil pump housing
2. Outer rotor
3. Inner rotor
4. Oil pump cover
5. O-ring
6. Regulator valve set
7. Regulator valve
8. Spring
9. Regulator plug
10. Oil strainer
CAUTION: Before assembly apply new engine oil to the parts as shown above.
DISASSEMBLY
1. Remove the oil pump cover.
2. Remove inner rotor and outer rotor from oil pump housing.
3. Remove oil strainer from oil pump housing.
4. After removing regulator plug, remove spring and regulator valve.
INSPECTION AFTER DISASSEMBLY
Clearance of Oil Pump Parts