Nissan Altima 2007-2012 Service Manual: P0116 ect sensor
Description
The engine coolant temperature sensor is used to detect the engine coolant temperature. The sensor modifies a voltage signal from the ECM. The modified signal returns to the ECM as the engine coolant temperature input. The sensor uses a thermistor which is sensitive to the change in temperature. The electrical resistance of the thermistor decreases as temperature increases.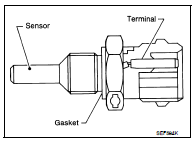 <Reference data>

*: These data are reference values and are measured between ECM terminals 46 (Engine coolant temperature sensor) and ground. CAUTION: Do not use ECM ground terminals when measuring input/output voltage. Doing so may result in damage to the ECM's transistor.
Use a ground other than ECM terminals, such as the ground.
DTC Logic
DTC DETECTION LOGIC
NOTE: If DTC P0116 is displayed with P0117 or P0118, first perform the trouble diagnosis for DTC P0117, P0118. Refer to EC-711, "DTC Logic".

DTC CONFIRMATION PROCEDURE
1.PRECONDITIONING
If DTC confirmation procedure has been previously conducted, always turn ignition switch OFF and wait at least 10 seconds before conducting the next test.
>> GO TO 2.
2.PERFORM DTC CONFIRMATION PROCEDURE
1. Start engine and warm it up to normal operating temperature.
2. Rev engine up to 2,000 rpm for more than 10 minutes.
3. Move the vehicle to a cool place, then stop engine and turn ignition switch OFF.
4. Check resistance between