Nissan Altima 2007-2012 Service Manual: P2004 tumble control valve
Description
Tumble control valve (3) is installed in the intake manifold adapter (1).
Tumble control valve actuator (2) is connected to the front end of the valve shaft.
Tumble control valve actuator consists of motor and position sensor, etc.
The motor opens or closes the valve by the output signal of the ECM.
The sensor consists of a permanent magnet and Hall IC. It senses the valve shaft movement and feeds the voltage signals to the ECM.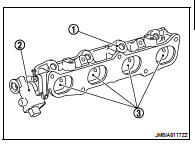 DTC Logic
DTC DETECTION LOGIC
DTC CONFIRMATION PROCEDURE
1.PRECONDITIONING
If DTC Confirmation Procedure has been previously conducted, always turn ignition switch OFF and wait at least 10 seconds before conducting the next test.
TESTING CONDITION: