Nissan Altima 2007-2012 Service Manual: Parking brake release warning chime
System Diagram

System Description
DESCRIPTION
• The combination meter receives the vehicle speed signal from the ABS actuator and electric unit (control unit) via CAN communication line.
• The combination meter judges whether the parking brake is released using the parking brake switch signal from the parking brake switch, and sounds the warning buzzer if necessary.
WARNING OPERATION CONDITIONS
If all of the following conditions are fulfilled
• Vehicle speed is approximately 7 km/h (4.3 MPH) or higher
• Parking brake switch ON
WARNING CANCEL CONDITIONS
Warning is canceled if any of the following conditions is fulfilled.
• Vehicle speed is approximately 3 km/h (1.9 MPH) or less
• Parking brake switch OFF
Component Parts Location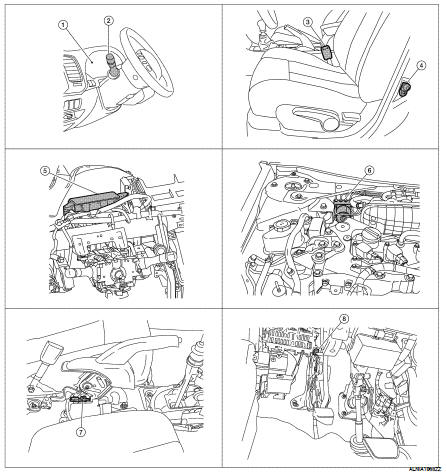 1. Combination meter M24
2. Combination switch (lighting switch) M28
3. Seat belt buckle switch LH B202
4. Door switch LH B8
5. BCM M16, M17, M18, M19 (view with instrument panel removed)
6. ABS actuator and electric unit (control unit) E26
7. Parking brake switch M73 (sedan with M/T or coupe) (view with center console removed)
8. Parking brake switch E35 (sedan with CVT) [view with instrument panel lower cover (LH) removed]
Component Description