Nissan Altima 2007-2012 Service Manual: Rear view monitor system (coupe)
System Diagram

System Description
When the selector is in the R position, the display shows a view to the rear of the vehicle. Lines which indicate the vehicle clearance and distances are also displayed.
AV COMMUNICATION LINE
The rear view camera control unit is connected to the AV control unit using an AV communication line. This line is used to transmit and receive data.
Component Parts Location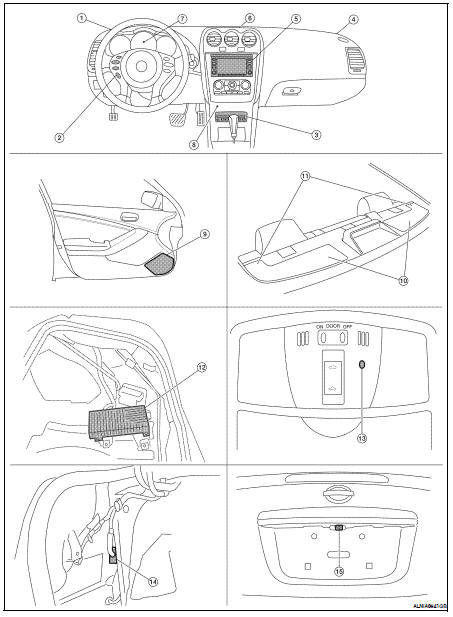 1. Front tweeter LH M51
2. Steering wheel audio control switches
3. CD changer M42
4. Front tweeter RH M52
5. AV control unit M46, M47, M48, M81, M90, M91
6. Center speaker M151
7. Combination meter M24
8. Aux Jack M41
9. Door speaker
LH D3
RH D103
10. Rear subwoofer
LH B25
RH B47
11. Rear tweeter
LH B16
RH B100
12. BOSE speaker amp. B121, B122 (view with trunk carpet and RH floor spacer removed)
13. Microphone R7
14. Rear view camera control unit B31 (view with trunk side finisher LH removed)
15. Rear view camera T7
Component Description