Nissan Altima 2007-2012 Service Manual: Thermostat and thermostat housing
Removal and Installation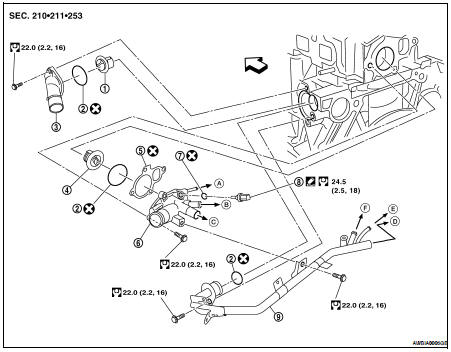 1. Thermostat
2. O-ring
3. Engine coolant inlet
4. Water control valve
5. Gasket
6. Engine coolant outlet
7. Copper washer
8. Engine coolant temperature sensor
9. Heater pipe
A. To electric throttle control
B. To oil cooler
C. To heater
D. To heater
E. To electric throttle control
F. To oil cooler

WARNING: Never remove the radiator cap when the engine is hot. Serious burns could occur from high pressure coolant escaping from the radiator.
REMOVAL
CAUTION: Perform when the engine is cold.
1. Drain engine coolant from the radiator. Refer to CO-12, "Changing Engine Coolant".
2. Remove the air duct. Refer to EM-25, "Removal and Installation".
3. Remove radiator lower hose from the engine coolant inlet side.
4. Remove engine coolant inlet and thermostat.
INSPECTION AFTER REMOVAL